International Federation of Operational Research Societies Conference 13-18 July 2008

Gauteng Province
Welcome to the website of the 18th Triennial Conference of the International Federation of Operational Research Societies (IFORS) which will be hosted by the Operations Research Society of South Africa (ORSSA). The theme of the conference is
Operational Research: developing communities, managing the connections amongst them
. This is the first time that an IFORS conference will be hosted on the African continent since its initiation in 1957.
The conference will be held at the Sandton Convention Centre in Sandton, South Africa from 13 -18 July 2008 and will bring operational researchers from around the globe together. You are hereby invited to join your colleagues for the pre-eminent international conference in operational research, offering an intensive scientific programme covering the full spectrum of topics in our field.
The Conference Organising and Programme Committees together represent many countries from all five continents, bringing the research, applications and perspectives of their areas to this truly international forum.
Sandton is a town in the northern part of the Greater Johannesburg Metropolitan Area, South Africa in the Gauteng Province. Sandton is without a doubt the most important business and financial district in South Africa, and plausibly sub-Saharan Africa. Sandton City is the prestigious address of leading South African businesses in the 20-floor Sandton City Office Towers and 10-floor interlinked Twin Towers East and West. Together they comprise 45 000 m2 of commercial space integral to the complex. Linked to Sandton City, with its iconic six-metre bronze statue of Nelson Mandela, is Nelson Mandela Square, a fashionable destination with sidewalk cafes, fine dining, a theatre, library, the Sandton Civic art gallery and some 90 exclusive shops.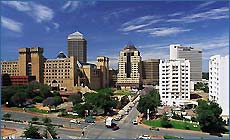 Sandton
In addition delegates will have an excellent opportunity to explore the hospitality and scenic beauty of South Africa, including the world famous Kruger National Park, an outstanding game park, the magic of Cape Town with Table Mountain and the wine lands, and many more. The neighbouring southern African countries also offer great attractions, such as the Okavango Delta in Botswana, the majestic Drakensberg and Maluti mountains in Lesotho, the Victoria Falls in Zimbabwe - to mention but a few.
The Conference and Travel Organisers, African Conferences & Incentives, can assist you with all your travel reservations including flight, transfer, tour and hotel bookings, giving you the convenience of registering and making your reservations in one place. Please place your cursor over the 'Travel' menu item on the left of this page and you will then see a submenu with items that you can click on to see information on flights, tours and general travel tips as well as to view the hotels that have been selected for conference delegates.